I just downloaded a blogging application to see if I can embed photos in the writing instead of posting a string of them afterwards. So, fair warning, this might turn out weird. But here goes....
Miles today: 72.3
Total miles: 501.9
Avg speed: 14.2
Max speed: 29.4
Ride time: 5:02:56
Weather: sunny, 78, east wind 5-10 mph
I woke early this morning, around 5:30, checked the time on my phone and then email and Facebook. Adventure Cycling, the folks who created the route and maps that I'm following, had posted a story about what backcountry skiers call the "golden anvil," which is any device that is no longer functioning but is too valuable to throw into a crevasse. Still half asleep, I immediately started laughing loudly, and I knew right then it was going to be a good day. Having checked the weather the night before, I knew the winds were going to be favorable and I wanted to be on the road again ( I just can't wait to get on the road again. Thanks Willy) before it had a chance to change its mind. So I got moving fast. Upon emerging from my tent I was greeted with a lovely sunrise over the lake:
Whoo whee she was a pretty one. I ate quickly, broke down camp, and hit the road by 7....only to realize a mile down the road when I went to take a picture of this tank:
I had left my phone charging on the utility pole by my campsite. Oh no! I hurried back, terrified that some dobadder had gleaned it after I left. But it was right where I left it. Shew! Close one.
But the rest of the day was fantastic. The wind stayed at my back until the last six miles but I didn't even mind the change. I had covered 26 miles by 9:30, 50 by 11:30, and rounded out 72 by 1:30. Not bad for a day's work. But it was all thanks to the wind.
It was mostly uneventful. I rode past a fresh prescribed burn with some spots still smoking, filled my quota of churches with 21 again, and got sunscreen in my eye per the usual. It's pretty much a daily occurrence. I also took a lot of photos of signs. This is my favorite:
Caryville, FL, worm fiddlin capital of the world. I don't really understand, but I love it just the same.
Tomorrow promises to be another trying day. I have 78 miles to cover to Milton and a huge storm system is supposed to arrive tomorrow afternoon. My plan is to be out of here super early, on the road again (damn you, Willy!) by 6, or as soon as it's light enough to ride, and make it as far as I can before fire and brimstone threaten to make me extra crispy, more so than the sun already has. I think I can make it by noon if I leave by 6. Hopefully the storm doesn't show up early. No one likes it when company calls early. But we shall see.
Here are some more photos I snapped today: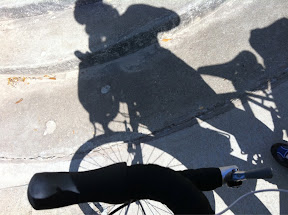 Suzanne, this ones for you:
A real mouthful:
Now those are some real table legs:
The view when the wind is winning:
That's all for now. Hope this turns out. I promise I'll get some postcards out soon!!
Cheers!
Jess