Woo hoo! Texas. I opted for the cool smaller sign for the self portrait. So did Dae.
Ok, really gonna keep this one short and sweet, promise.
I hit the road around ten til 8 this morning and was feeling fine. The 25 miles to the Texas state line went by quickly. I screamed one last proclamation of love to louisiana at the top of my lungs just before crossing the Sabine river in Texas. It was an eventful border crossing. After a short snack break, I was getting ready to take off into the biggest state of the trip, when a man pulled over to basically ask me what I was doing because he had seen so many cyclists passing through. About that same time, Dae, my riding buddy from yesterday caught up with me. We took each other's photo by the smaller Texas sign and decided we would ride together again today, taking turns drafting. Yes!
50 miles and 3 hours later we had arrived in Silsbee. What a great but grueling ride. And Hot, hot, hot! We were really pushing ourselves. Whoever was in front was really working hard in a strong headwind to keep the speed up around 14 mph. We did 15-20 minute shifts. I thought I was going to pass out at one point during the last ten miles (can you guess why?? Me no
Drink water almost all day). It was around 90 degrees on the road.
Dae pulling as I fell behind, a victim of the wind fiddling with my phone.
I got to this campground around 2:30, where I met some great folks and got to swim in this awesomely cold pool to cool down: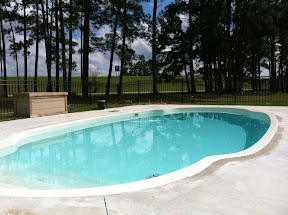 It is the personal pool of the owners but they graciously let menus it for a few precious moments. They they invited me over for this: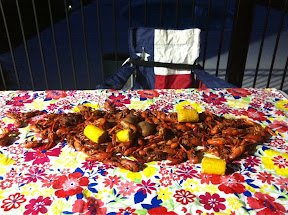 A table full of crawfish, potatoes, and corn on the cob, and a garage blues/rock band who are actually really good. My new friend Rita gave me three delicious beers which I savored immensely.
I have another crazy story about this day to tell, but I shall wait for now. I'm tired and a new day shall rise in no time. Texas is awesome. Dae and I are riding together again tomorrow. Supposed to be another scorcher. Take care, y'all.
Love,
Jess