Hello everyone! It's been a while. The busy, busy week off in San Jose/Austin was fun but probably not really what my body needed. Judging/timing those competitions is much harder work than actually competing. I basically worked 14 hour days with no breaks. By the time we left the field, found somewhere to eat, and showered it was about 11 or even later and we had to be up by 5:30 to do it all over again. Did I mention it poured the rain the entire time? Don't be mislead- it was really fun! But exhausting.
Traveling to and from Austin was pretty exhausting too. But on my 3 hour greyhoun layover in Waco i was able to visit the Texas Ranger museum. It was awesome!!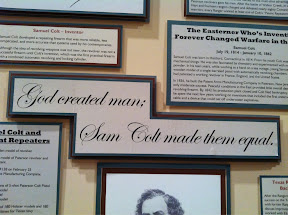 Colt Walker repeating pistol, ca 1846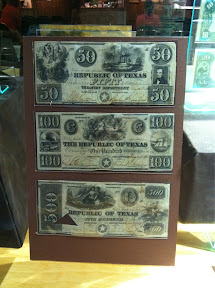 Texas had way cooler money than the confederacy.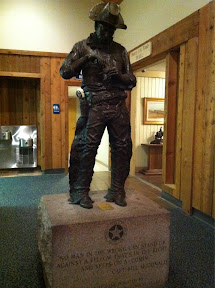 Austin the first time around was pretty cool too. I ate some delicious pizza at the Jackalope on 6th street. And then slept at the airport, which was not very fun.
This kind of looks like a Banksy.
My flight to San Jose was delayed an hour because the pilot somehow discharged the fire extinguisher into one of the engines so we had to switch planes. I was hoping that meant we got a new pilot, too. No such luck. But c'est la vie.
AWFC 2011 rocked. I had a lot of fun and saw some really great competitors.
Men's pole climb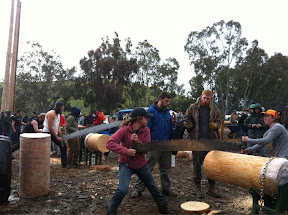 HSU and Berkeley warming up for the double buck. They are about to RAGE!!
Karl Franci from Humboldt State placed 3rd in the Stihl series. He now has the opportunity to be chosen for the wild card pick and move on to the national finals in August and compete for a chance to become a professional. Way to go, Karl!!!
Flying back into Austin on Saturday night was pretty sweet. I was able to meet up with my friend Mike Tozzo's brother, Nick, and his cousin, Zack, and some of their friends. We went downtown to 6th street and checked out the nightlife. Really fun. I can assure you it is alive and well. Thanks guys!
Well, I guess I am still recovering from the vacation from my vacation, as I only made it 20 miles today before I had to stop. Last night I stayed with the Edgar family again. Sara's brother and his family were in town visiting from Minnesota and it was very nice to meet them and hear their funny stories. I was feeling fine when I left their house this morning, though admittedly pretty tired, but that's not really anything new on this tour.
It wasn't until about five miles in that it really started to hit me. I suddenly felt as if I'd been riding for 8 hours. My legs were so heavy every turn of the crank was a struggle and I could've easily fallen asleep at the handlebars, a biking zombie. On top of the fatigue I've also developed a nice little, croupy cough. So I checked into a motel room in Navasota at 10:30, where I promptly fell asleep and slept until....3:45. I don't think I'll have any trouble sleeping through the night, either.
I just ate some delicious Mexican food for supper.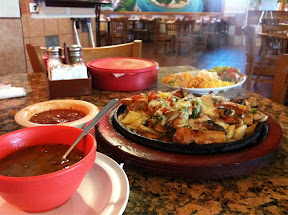 I wanted something super spicy to try and burn this bug out of me. I hope it works. The plan for now is to forge ahead tomorrow and see how far I get. Shucks. The wind was even out of the east today. A tailwind is a terrible thing to waste.
Here's to good health.
Cheers,
Jess