As you may or may not have intuited by meow, I took yesterday off and hung out in Silver City for the day. It was everything I dreamed it could be. Not really. It was Sunday so everything was closed. Almost. I got up early, around 6, just as the sun was rising. I caught up on the blog and then headed down the hall to the continental breakfast, where my cross-country biker appetite made quite the appearance. Two bagels with cream cheese, two hard-boiled eggs, a couple of muffins, and two cups of coffee, which I never drink so you can imagine the outcome of that. My stomach was finally satisfied so it was time to do some serious surfing. Couch surfing. I turned on the tv and probably didn't move for three hours and it was awesome!! Gotta admit, Extreme Makeover Home Edition is a pretty great show. Yeah, it made me cry. Don't judge me!
Brennan finally woke up ("this is a biking trip not a sleeping trip!" followed by an airhorn) around 10. 11:30 came and went and I suddenly felt lazy. Time to go out into the real world.....and get ice cream! But first we made our way down to the bike shop. I always stop in and say hi at the shops even if I don't need anything. I ended up buying a Tour of the Gila t shirt. Great, more clothes to carry! Just kidding. It's an awesome shirt. And it doesn't smell like my other one. Yet. Anyway, Tour of the Gila is this world class bicycle race that is happening next week in Silver City and the vicinity. All the big guys come. There are pictures of Lance Armstrong riding in it all over town. I'm pretty bummed I won't be around to see it. I went to silver city and all I got was this lousy t shirt. Kidding again.
After the bike shop we got Italian ice cream and walked around. I chose the flavor Bounty (coconut with chocolate pieces in it) - so good! Brennan got mint chocolate. Also good. Too bad my rest day was a Sunday. That always seems to be the case when I am in the cool towns.
For lunch we went back to Isaac's. The duck fat French fries hold a gravitational pull on me equal to or greater than that of the sun. Holy mackerel they are good!! I'd go back to silver city again just for the fries. But there's lots of other cool things to see too.
For dinner we ate at a fancy place called 1zero6. The owner and chef, Jake, creates a new menu every day based on what he can find fresh at the market. It's kind of a thai/Asian/Indonesian/Indian fusion that he does not Americanize at all. It's really good food. And for how fancy it is it wasn't that pricey. I had the Indonesian spicy chicken with green beans and rice. Brennan got Roh nah, which is a pork loin noodle dish. Our appetizer was out of this world. I don't even really know how to describe it because the only ingredients I recognized were shrimp and, well, that's about it. They were little rice cake bowls with shrimp and sauce and herbs in them. Yummmmmmm!!!!
Then the food coma set in and we were again in front of the tv until we fell asleep. I still haven't kicked this cold all the way. It seems to come and go, get a little better and then worsen up again if I push hard one day. Some Nights my throat hurts so badly it wakes me up. I'll be glad to be done so I can finally be rid of it! Anyway, good rest day! Thanks, Silver City. Way to be!
Now that brings us to today. I wanted to be on the road by 7 to try and beat the wind, which was forecasted to gust at up to 39 mph. But of course that never happens. The continental breakfast didn't even start until 7.
I finally decided to just go for it and snack on the road. I said bye to Brennan, sorry to see his wounded knee kick him off the bike so early when he drove so far to ride. Such a bummer. But we shall meet again in another place. It was real nice having him around for the time he could ride.
On my way down the hall the lure of the breakfast table was too strong to resist so I stopped and had a bagel and chatted with some motorcyclists from Arizona for a bit. I finally hit the road around 7:30.
I was dreading this ride today. I knew the wind would be brutal and I was prepared to climb a lot, especially early on as I neared the continental divide. But it actually wasn't that bad. The climb up out of downtown Silver City provided a beautiful view of the sun rising over the town.
It was much prettier than this crappy photo but I couldn't resist.
Not too long after I crested the continental divide!
It was all downhill from there until buckhorn, about 35 miles. The rising sun illuminated glowing fields of golden grass covering hill after hill as I coasted the morning away. It was so beautiful!
I didn't really see another town for 30 miles and traffic was very light. I arrived in buckhorn to restock on food and water around 10:15. While I was checking the map to find the store, a woman came out of the house I was next to and offered me food and water. I was starving and couldn't resist so we went inside and she cooked me a hamburger. Elsie and her husband Ron moved to buckhorn from michigan after Ron's heart started acting up. They've been here for about 4 years now.
After I ate, Elsie showed me pictures of the bike race, which comes right by their house, as well as photos of her 42 year old son, with whom she tried to match make me from almost the moment I met her. Luckily, he had already gone to work before I arrived. These two folks were great, though a little odd, and I greatly appreciated their generosity. Ron gave me two extra quarts of water since my next water stop was Three Way, AZ, 45 miles away. I would not make it there today, so I essentially had to carry a day and a half worth of water.
On my way out of town I stopped at the store to find something to cook for dinner tonight but the selection was meager. I couldn't bring myself to buy a can of soup, which was pretty much the only option, so I stocked up on beef jerky instead.
While I was there a bunch of east-bounders showed up. There was one group of four with vehicle support and one lone self-supported guy named Rob who had met up with them along the way. It was a neat little small world moment when the woman driving the truck told me her grandson is about to go to Humboldt. Then Rob said he had been to Petersburg when he worked on a fishing boat out of Juneau. Real nice folks. They let me use some of their sunscreen since I'm almost out but I got a sunburn anyway. Looks like the jersey will have to reappear tomorrow in place of the tank top so I can use less sunscreen until I can restock in Safford.
Right about the time I was ready to get back on the road the wind picked up, as predicted. I still had about 25 miles to go, all up hill toward a 6,329 foot pass. I made it about 11 miles before I stopped and made a little nest inside a juniper to get out of the wind for a while. I really considered staying there inside that shrub for the night but I really needed to cover more ground so I pulled myself up and got back on the bike after a long break. I was surprised by how quickly the miles went even though they were somewhat miserable. Before I knew it I was entering Gila national forest, then Apache National Forest, then Arizona!!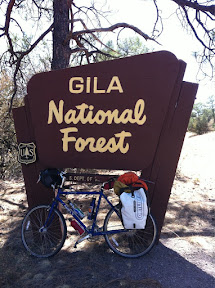 I just climbed up from all that
Within another mile, a downhill mile! I had pulled into Coal Creek campground, which I have all to myself. I still haven't conquered the pass. It's about 4.7 miles away, but I figured I'd save it for morning when the winds aren't so treacherous and my legs are fresh...er. Tomorrow is a short day anyway - 53 miles to Safford.
Which reminds me, I need to give you some stats. Today I rode 62.6 miles, bringing the grand total to 2,336. Wowza!! That's less than 700 miles to go. Woo hoo! But I need not count my chickens before they hatch. Tomorrow is a new day, hopefully a less windy one but it is supposed to be like this all week. The good news is I've kind of gotten used to it. Riding into strong wind is just something I do now. But, of course, tailwinds are always welcome.
In closing, I would like to wish my little brother, Justin, a happy 22nd birthday! Love youuuu. Don't do anything I wouldn't do, which isn't saying much, but you get the idea. See you soon!
It's good to be in Arizona,
Jess