Another long day today. 90 miles! I rode until dark for the first time, I think. I also got my first flat while riding. The other one happened over night in Louisiana...or at least I didn't notice it until morning.
Heike and I left a great warm shower and this adorable puppy this morning around 7: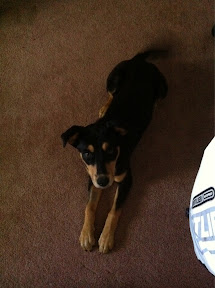 It was really hard to get her to sit still for this. She is a ball of energy.
We stopped and ate breakfast at Jerry's, an old diner on highway 60. I had the southern breakfast. Biscuits and gravy, sausage, two eggs, and hash browns.
The route was downhill and flat for a few miles until we reached Miami, when we started climbing up the last sizable pass for a while. This 17 mile section from Miami to Superior is known to be treacherous for cyclists. It is full of big trucks and mining traffic and in many spots has no shoulder. There is also a dark 1/4 mile long tunnel to go through. Not two weeks ago, another cyclist was deliberately run off the road coming down the hill. He got severe road rash and a broken shoulder. But our trip was fine. No close calls and beautiful views!!
Once we crested the top the real fun began. The other side was much steeper, with a 7% grade, and we coasted down the canyon at 35+ for a good 20 minutes. It was incredible. I wanted to take a picture of the canyon walls but it was too sketchy to only hold on with one hand. The tunnel wasn't bad at all. It was real short. Before we knew it we were in Superior eating delicious ice cream and sitting in the shade.
At the top. Heike is in the distance.
It was time to mosey again so we saddled up and cranked out the last 25 miles to Apache Junction, the destination for today. The miles were flat....and so was my back tire. Turns out I had run over a staple.
We stopped at the Sundance bar and grill just inside town and had nice ice cold beers and lunch. I got a Philly cheesesteak sandwich. I did it again. I had stuffed myself for the second time today. While sitting there, I discovered that a friend from school who lives in San Diego is actually driving up to humboldt next Thursday. If I get there by Wednesday I can catch a ride! So i juggled things around and should now be finishing Wednesday afternoon sometime. Yeah!
Part of that plan entailed riding on into Phoenix today so I hopped back on the bike. This was also the time of parting ways for Heike and I. She was staying in apache junction. It was nice to ride with her but I am glad to be back on my own again.
I was surprised I had the energy to keep going after the long day yesterday but I never felt tired. I rode through Mesa, Tempe, and Scottsdale, and made it pretty much to Phoenix before the setting sun and the increasing wind got the best of me. There's nowhere to camp here in this giant metropolis so I checked into the motel 6 and headed next door for Indian food after I successfully blackened another pristine washcloth. It's amazing how dirty I get in just one day.
The Indian food was incredible. I just stuffed myself for the third time today. There's no way I burned all those calories.
Ah. Sleep is setting in quickly. Another long day tomorrow, maybe even a century. It's about time I broke the 100 mile mark.
Good night folks.
Love,
Jess