What a day! 73 miles and the roughest road yet led me to ocotillo, CA, a small town right at the base of the In Koh Pah pass over the mountains to the coast.
I left Glamis this morning around
7 and rode the last 7 miles or so through the beautiful golden dunes with no wind!!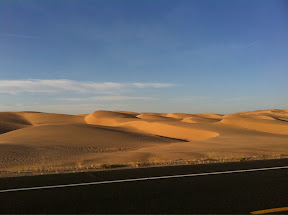 I descended into the Imperial Valley and cranked out a flat 50 miles in not time. In Brawley, I stopped for brunch, which was inspired by an intense craving for a Subway sandwich. Footlong veggie with all the veggies. Yum! While i was stopped i noticed my rear tire seemed low again so I went to put air in it. When I had been pumping for a minute or two, that dreadful sound of air escaping somewhere inside the tire suddenly made itself known. Groaning, I removed the pump and began tire change número tres. Turns out a thorn about 1/3 of an inch long had embedded itself in the tread and broken off. I was surprised it had taken this long for it to go all the way flat. I was determined not to get anymore flats, so I switched the front and rear tires. The front tire had almost no wear on it and the back one was clearly worn pretty well from the burden of supporting many things I didn't actually need. That seemed to do the trick. No more tire troubles the rest of the day.
When I got to El Centro, I went on a wild goose chase for the bike shop to get a spare tire and another tube just in case but I never found it. I decided to chance it. Luckily, it worked out.
The road out of el centro was known to be treacherous. There was an alternate on the map, which was nine miles longer. I didn't really feel up to that so I went for it. The last ten miles of the day were horrible. I've never been on a rougher surface.
Gettin closer!
Finally, I arrived in Ocotillo and made a beeline to a place called the old highway cafe, which I am sure serves other things but the only thing on the sign that registered in my mind was cocktails. It's a real neat place. As soon as I walked in everyone started talking with me about my ride. They said I looked tired. I said I needed a beer more than anything ever. And it was the best beer I've ever had in my life. But, of course, it always is at the end of a long day. The man at te en of the bar bought me another while I was in the bathroom. Then he offered up his couch as an alternative to camping. I couldn't refuse.
Jimbo is one of the coolest people I've met on the trip. He's 53, from San Diego, and races trucks in the desert. He has a sweet bungalow. We spent the evening chatting over beers as he cooked chicken and potatoes on the grill. We hit it off pretty good. It was nice to wrap up the day with a fine meal and better company.
Tomorrow I tackle the pass and try to make it all the way to San Diego, 95 miles. That's a long ways. We'll see how it goes. Lots of climbing ahead. The first is a 6% grade for 12 miles for a gain of 3,500 feet. Then there are three more thousand footers after that. I'd be lying if I said I was looking forward to it. Nighty night!
Love,
Jess