Well hello again. Let's do some stats, shall we? I fear they have fallen by the wayside.
Miles today: 56.3
Total miles: 2,058.4
Miles to go: 1,100!!
Wind: can go to an even hotter place than this one for all I care. 35-45mph gusts from about 10:30 on.
Number of entire pizzas I have eaten by myself so far: 3
Rough percentage of border patrolmen who are lookers: 83.4
Amount of water consumed: 1 gallon, 20 ounces.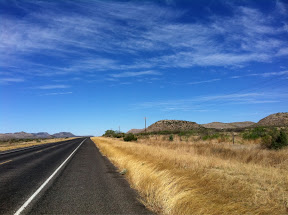 Hi hi hi hi! Much of today looked like this picture. What you can't see is the smoke rising above the distant Davis mountains to the north from one of the many wildfires burning in the region.
I set out from Sanderson into a beautiful morning and was feeling actually surprisingly good about steadily climbing for 55 miles. Unlike the up and down terrain of last couple of weeks, today was mostly a gentle climb with very few downhill sections. I cranked along to the sounds of the desert, rattling off scientific names of trees to pass the time because I am a nerd like that. it was pretty nice. Until the wind picked up. I knew this was going to happen. I just thought I would have more time before it did. This was around mile 28, just about halfway.
This was no ordinary wind. It was a guster, producing speeds of 35-45 mph, sometimes almost bringing me to a stop and almost knocking me off the road once or twice. For the most part, I would say it was gusting more than not. A cold front is moving into the area, which I have learned means crazy high winds out of the west and northwest. You can have cooler temperatures or you can have no wind but you can't have both here in west Texas. Actually, you can't have no wind, but you can have calm winds. Personally, I prefer the wind over the heat, as shocking as it may sound coming from someone who hates headwinds so much.
Many ranches have these neat little nature scenes above or on their gates.
The good news is it was a bit cooler today. My cyclometer only read 100 degrees once. For the most part it hovered around 95, which means off the road it was probably about 85. With the wind it actually felt kind of nice, though still a bit hot.
In other news, everyone should give me a giant round of applause for drinking lots of water. One gallon and 20 ounces!! I had to take sneaky roadside bathroom breaks three times. Yay for hydration! Heat exhaustion is a good motivator. So is the weight of water.
I've ended up in Marathon at a very nice RV park on the edge of town. I'll forego setting up my tent until the wind dies down/it gets cooler so things don't get hot in there while they are blowing away.
I'm still not sure what I'm going to do tomorrow since Fort Davis is half burnt down. Brennan McIrish is coming tomorrow evening to collect me (yay!) and whisk me away from Texas (yeah, I'm cheating - No, I don't feel bad about it), so perhaps stopping in Alpine, 30 miles down highway 90, would be easiest. Doesn't look like there's much after Alpine for a while. Plus, I won't have to climb up those mountains to Fort Davis. Hallelujah!
Ok, so I do feel a little rotten about not riding the rest of Texas. But a)the best route forward is on fire and b) we need to find a place to leave Brennan's car that is easy to get back to, I.e. somewhere in El Paso, and I am still a few days away from there. So thanks for helping me remind myself that I kind of have to do it this way. Shew. I feel better now.
What's that I hear calling? The gentle drizzle of a nice, cold shower. It awaits! And surely there is a beer around here somewhere to help me celebrate 2,000 miles. Take care, y'all!
Love,
Jess