Hahahahaha. Emory Pass is finally conquered!
We left Hillsboro around 8:30 and started the gradual winding 1,000 foot climb up to Kingston, the gateway to the pass. Along the way I saw four Elk down by the creek and there were cows everywhere alongside the road. I must've ridden over 20 cattle guards today. I was surprised to see them right on a highway. So were my wheels. But they actually weren't that bad if I had a little speed.
By the time we made it to Kingston it was clear Brennan wasn't going to be able to tackle the pass. His knee was in a bad way, so he was basically down to one leg, on top of having a high-geared racing bike. Sadly, he had to stay in Kingston and stick out his thumb. I am both sad and happy to say this turned out to work in my advantage, as I was able to leave my panniers with him and go up the pass 30 pounds lighter. And what a difference it made!! I was still in my granny gear pretty much the whole time but I never even felt out of breath until the last two miles of this 8 mile, 4,000 foot ascent. It's probably the only big climb I have ever enjoyed. It was wonderful to climb up into pine forest and see trees again for the first time in a little while. The view kept getting more and more spectacular as I inched my way up to the top of this 8,228 foot peak. About 3 miles from the top a red truck pulled up beside me. It was a man named Jose and he had Brennan with him. I was relieved to see he had found a ride.
Finally, I made it!!!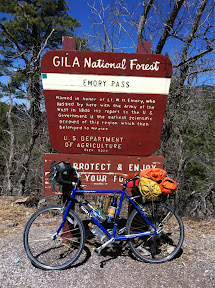 It took me an hour and a half but it was a joyous hour and a half. I climbed up a little more and checked out the vista maintained by the forest service.
What a view! I could see the towns of Kingston and Hillsboro in the distance.
Then came the best part. The descent! It was nice and steep toward the top so I was able to go fast enough to take over the whole lane and not be caught by any cars, about 35 mph. The hairpin turns were sometimes a little scary but I tried to brake as little as possible. About three miles down I passed four other cyclists climbing up. I gave a big fist pump and loud "whooooo hooooooo!!" and the replied with big smiles, no doubt coupled with thoughts of their own speedy descent on the back side.
That was about all the fun I was to have today. The last 30 miles into Silver City, miles which I thought were going to be mostly downhill, were tough. I pedaled up and down one multi-mile long climb after another, same steepness as the pass, all the while with an increasing west wind. By the time I was five miles from town, I was gassed. But I did pass the Santa Rita mine, one of the world's largest open pit copper mines. Check out how gross it is.
If you look hard, you can see the tiny speck that is one of those giant dump trucks with 8 foot tires. Ick!
Finally, finally!!! Silver City. Brennan was waiting at the buffalo bar and I savored a Marble Red Ale, brewed in Albuquerque. Yum yum. But I needed real food. We tried to go this place called the curious cumquat, which we found to be a very uppity and pretentious-looking place, so we jet set out of thee and headed back in the direction we had come from. We landed at Isaac's, a bar and grill. Brennan had eaten lunch there bit didn't mind going back. I had a Philly cheesesteak sandwich southwestern style and the best French fries I've ever had in my life. They were fried in duck fat. Oh.my.goodness. I might take a rest day tomorrow just so I can eat them again. Plus, my legs are tired. Oh me oh my.
The food coma then began and it is so good at making me part with my money for comfy but too expensive hotel rooms. We ended up across the street (barely made it that far, haha) at the Palace Hotel, an old timey place with reasonable rates. What an amazing shower! It had been a while. I was starting to not be okay with it. I'm pretty sure I fell asleep within an hour afterwards. Sorry folks, I was too tired to blog. Oh, which reminds me. Sorry for the delay on entries. I lost service sometime before Hillsboro and didn't get it back until about 10 miles outside of Silver City. I am expecting that too happen more often in this last week and a half, so heads up.
Which reminds me of something else. I don't believe I have relayed the exciting news yet, but I have planned out the remainder of the ride and I should be arriving in San Diego sometime around the 29th. That's so soon! I can't believe I am almost there, that I have almost actually done this. Anyway, might need a rest day or two sometime in there, so it's not exact but I would say two weeks at the most if nothing crazy happens like bike issues or insane weather, all of which are very possible. But I can't help but be very very excited. This trip has been epic and awesome but I will be glad when it is over too.
Well, the continental breakfast is a callin. I will probably stick around here today and rest. Brennan's time on the bike is sadly over and he must wait around for Enterprise to open tomorrow so he can get a car and drive back to El Paso. So I can hang with him while I rest and we can explore Silver City on a Sunday.
Arizona's not too far away now. The winds are going to be an issue from here on out, so I'm afraid the last stretch is gonna be tough. But I should be used to that by now.
Take care, folks. Until next time
Cheers,
Jess